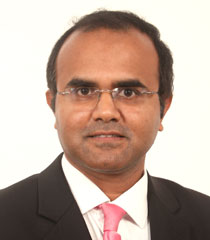 Dr Balu Pitchiah
MBBS, MRCPsych, CCST,MBA (OXON)
Consultant Psychiatrist
Dr Balu qualified from the prestigious Stanley Medical College in Chennai, India before completing his basic psychiatric training in Sheffield.
After completing an MBA at the University of Oxford, he decided to pursue his higher training in mental health, particularly focusing on mood disorders and behavioural addictions. Dr Balu gained invaluable experience working at the National OCD Treatment Service and the National Problem Gambling Service where he specialised in alcohol, drug addictions, and eating disorders.
Dr Balu holds a position with the NHS as a Consultant Psychiatrist, where he works closely with a multidisciplinary team, managing common mental disorders including anxiety, depression, OCD, PTSD and Bipolar affective disorder. He has expertise in working with high achievers and people with Type A personalities — helping them achieve their full potential while minimising the impact of their emotional problems on their work and family life.
Dr Balu routinely consults people with multiple co-morbidities and physical health problems including cancer. His treatment approach is holistic, and tailored to individual needs, working collaboratively with his clients. In addition to prescribing medicines and recommending psychological treatment, he works with a wide range of professionals offering life coaching, ultra wellness treatment, Neurotherapy and magnetic treatment.
Dr Balu is committed to helping his clients achieve their full potential and enjoy a state of physical, emotional, sexual and spiritual wellness.
Languages: English and Tamil