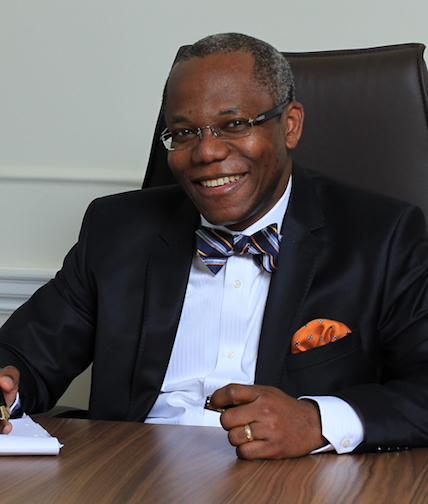 Dr C I Okocha
MB, BS; Ph.D; FRCPsych
Consultant Psychiatrist
Dr Okocha qualified in 1985 and completed his training in Psychiatry on the Guy's and St Thomas' rotation. He completed his doctorate (Ph.D) and post-doctorate research at King's College Hospital and the Medical Research Council funded section of psychopharmacology, Institute of Psychiatry with international bursaries for visits to Yale University Connecticut and Nuclear Medicine department of Bispebjerg Hospital Denmark.
Dr Okocha obtained his Membership of the Royal College of Psychiatrists (MRCPsych) diploma in 1992, Doctor of Philosophy (Ph.D) degree in 1996 and in the same year was appointed consultant psychiatrist/senior lecturer at Greenwich District Hospital and Guy's & St Thomas' London. In 2007 he was elected Fellow of the Royal College of Psychiatrists (FRCPsych) for his contributions to the field of Psychiatry through his clinical practice, teaching, education and research. He is an international Fellow of the American Psychiatric Association and a Fellow of the Royal Society of Medicine. He has a wide area of clinical interest and expertise in psychiatry spanning anxiety, mood, dependence, personality and psychotic disorders, in addition to psychopharmacology which is the use of drugs in treatment of psychological illnesses and has scientific and lay publications in these areas.
Dr Okocha was appointed College Tutor for postgraduate psychiatric trainees in 1996 and Clinical Director of Greenwich services in 1999 and demonstrated excellence in his leadership and management skills through his development of high quality and innovative clinical services and implementation of evidence based clinical practice and research.
He has received commendations and won many national awards for innovative and high quality care delivered by him with his multidisciplinary clinical team and these include National Association of Psychiatric Intensive Care Units team of the year award; Care Services Improvement Partnership 'Positive Practice' award; commendation by Hospital Doctors Award committee; and award of the British Association for Medical Managers. His unit jointly produced leadership-training resources with the National Health Service Institute for Innovation & Improvement and the Oxleas National Institute for Clinical Excellence (NICE) schizophrenia audit tool won a Health Service Journal award for Implementation of NICE Guidelines.
Dr Okocha is a member of the General Medical Council (GMC) Responsible Officer Reference Group that provides the GMC advice on how to implement the Revalidation of a quarter of a million doctors in the UK following the Responsible Officer Legislation of 2011. He is a member of the NHS London Responsible Officer Board and is the Responsible Officer and Medical Director leading on Revalidation across all Mental Health Trusts in London. He led the development of the Strengthened Appraisal and Revalidation Database that is now available commercially available to the National Health Service (www.SARDJV.co.uk). Furthermore, he leads on the implementation of Mental Health Payment by Results in London representing Medical directors on the project board and he is the Mental health lead on the Academic Health Sciences Network for south London.
Dr Okocha was the first ever recipient of the distinguished award of The Medical Leader of the year (2009) by the Royal College of Psychiatrists "in recognition of an outstanding contribution to mental health" and is in the 'Roll of Honour' of the Royal College of Psychiatrist. He was a guest of Her Majesty the Queen at the Diamond Jubilee Celebrations at St Paul's Cathedral and the City of London Corporation reception at the Guildhall. He has for the second year running (2011/12 and 2012/13) been listed as one of the "100 most influential black people in Britain" by Powerful Media and as a result was a guest of the British Prime Minister at 10 Downing Street to mark the Black History Month and launch of the "Power List" in October 2012.
In the NHS Dr Okocha is the Medical Director of Oxleas NHS Foundation Trust, a first wave mental health (and community health) Trust in southeast London which has been consistently rated highly for finance and governance by MONITOR, the independent regulator of Foundation Trusts in the UK. It won the Royal College of Psychiatrists Mental Health Service Provider award in 2009 and staff rated it the best non-acute Trust to work for in England in 2011 and 2012 (National Staff Survey, 2011 and 2012). Oxleas has won several Health Service Journal Awards during the past five years including in 2011 the Staff Engagement Award and the Secretary of State Award for clinical Excellence. Dr Okocha is responsible for the quality of clinical services on the Trust Board of Oxleas.
In the private sector he has had extensive experience in the treatment of difficult to treat cases, and has developed a keen and involved interest in the private sector whilst maintaing his professioanl commitments in the NHS.