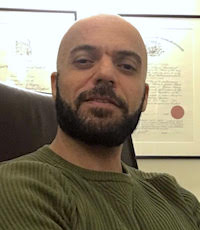 Dr Hamodi Kayal
BA, BA (Hons), MA (Clin), DClinPsy
Specialist Clinical Psychologist and EMDR therapist
Dr Hamodi Kayal is a chartered Clinical Psychologist with significant expertise in the assessment and therapeutic treatment of a range of anxiety and depressive disorders. He is registered with the British Psychological Society (BPS), EMDR Association Ireland and UK, and the Health Professions Council (HPC). Dr Kayal undertook his undergraduate studies in Israel, followed by his Post graduate studies in the Nelson Mandela Metropolitan University, South Africa. He completed further post qualification doctorate in London.
With a special interest in Post Traumatic Stress Disorder (PTSD), Dr Kayal went on to complete additional training in this area, including trauma focussed CBT and EMDR. Both of these therapeutic approaches are recommended as the first line of treatment for adults in the UK, according to the National Institute for Health and Clinical Excellence guidelines (NICE).
Dr Kayal works with a range of psychological and psychiatric difficulties, including Mood Disorders (depression, mood swings, bipolar mood disorders) and Anxiety Disorders (panic attacks, agoraphobia, specific phobia, Social anxiety, PTSD and performance anxiety). He is also experienced in working with traumatic bereavement, work stress, dissociative disorders and emotional regulation difficulties. Having practiced in many countries, Dr Kayal has a broad experience of different cultural backgrounds and mental health settings (CMHT, adult mental health teams and inpatient hospitals).
Dr Kayal encompasses a flexible approach to therapy, adapting treatment to suit the individual needs of his clients. His training as a Clinical Psychologist enables him to do so both professionally and ethically. His academic, research and clinical experience have provided an extensive knowledge base to help improve patients' emotional, social and general psychological wellbeing.
Languages: English and Arabic
"I couldn't recommend Dr Kayal with any more enthusiasm and confidence. In addition to his wealth of experience, he approached every session with compassion and understanding. That said, he seems to strike the perfect balance between being supportive and encouraging you to work through the difficulties. He is now a great friend and I will be forever indebted to how he has helped me overcome my trauma. The transformation from when I started until now is simply unbelievable and he has been with me every step of the way – going over and above what is expected to ensure I was able to get better. As someone who struggled for years and tried many different things along the way, his holistic approach was exactly what I needed. "
– SS.