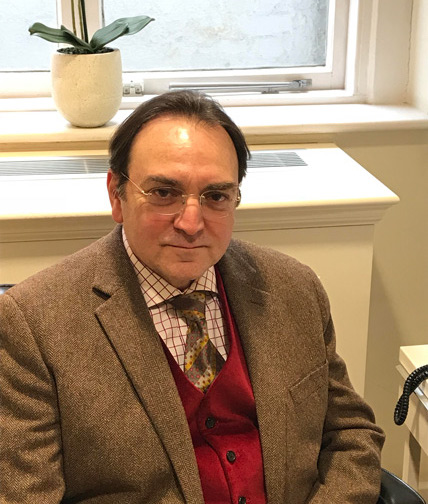 Dr Spyros Karvounis
MB BS, MRCPsych – Visiting Honorary Senior Lecturer, Middlesex University
Consultant Psychiatrist
Dr Karvounis is a practising Consultant Psychiatrist and a Psychotherapist. Over the years, he has been integrating psychiatry with psychotherapy on his clinical practice and teaching. Clinically he concentrates on cases where the psychiatric, personality and social / family / cultural aspects all contribute to the presenting problems and sought solutions.
He has led clinical teams in the NHS and was the Clinical Director in psychotherapy Day Hospital that operated along therapeutic community lines for over nine years.
In his NHS jobs, he was the lead for the development of psychotherapy services in the whole of the London Borough of Enfield and in his Team. He was also the Clinical Lead of an intensive outpatient service providing Mentalization therapy for people with personality disorders. This later expanded to include all community services through the Complex Needs Team that provided psychiatric and psychotherapy / psychology services across the London Borough of Enfield
Concurrent to his psychiatric career and integrated to it has been his extensive training and practice in formal psychotherapies such as Cognitive Analytic Therapy and Jungian Analysis that enables him to continuously develop individualised clinical perspectives in the care of patients.
In addition is his long-term interest in the philosophy of psychiatry and psychology as a way of being aware of the premises of thinking and understanding, to develop insight into the limitations of each perspective and to expand his therapeutic approach to the human psyche and its suffering.
His commitment to clinical quality with a focus on a positive patient experience encouraged him to become an Associate Medical Director with responsibility for Clinical Governance in Barnet Enfield and Haringey NHS Trust with accountability for three of the Trust's six Service Lines. Working with colleagues under his leadership, they improved the clinical care in the clinical units. He led the development of clinical protocols for teams across the Trust to improve their practice following learning from in depth reviews of untoward incidents. His own clinical practice unit was chosen by the Trust to represent it in a conference on good practice and innovation across London.
This quality perspective guides his commitment to his formal and clinical teaching bringing theoretical perspectives to bear whilst remaining closely aligned to the specific phenomenology and needs of the presenting clinical picture. He is a qualified teacher and supervisor with the London Deanery and Cognitive Analytic Therapy and he has taught medical and multidisciplinary staff in both psychiatry and psychotherapy. He developed a researched CBT based psychological approach and led its implementation to multiple in-patient and community clinical teams to improve the quality of patient experience in Enfield. He has presented theoretical and research papers to national and international conferences.