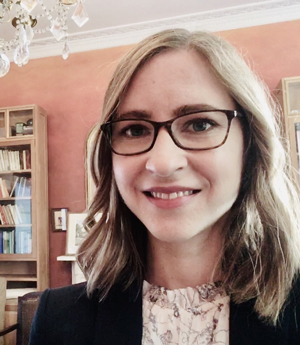 Fay Kalapoda
MSc, BSc (Hons), PGDipCBT, MAREBT, BABCP Accred.
Cognitive Behavioural Psychotherapist
Fay Kalapoda is a BABCP Accredited Cognitive Behavioural Psychotherapist. She specialises in REBT (Rational Emotive Behaviour Therapy), a comprehensive approach to psychological treatment, which is the first form of cognitive-behavioural therapy, founded by American psychologist, Albert Ellis.
Fay uses an integrative approach combining REBT with other therapies such as mindfulness-based cognitive therapy (MBCT), acceptance and commitment therapy (ACT) and compassion-focused therapy (CFT) while following NICE clinical guidelines so she can offer an individualized evidence-based treatment plan that will suit the needs of each patient.
Fay has attained two Bachelor of Science degrees in Applied Biology and Psychology, and two Master of Science degrees in Health Psychology and RECBT, and a post-graduate Diploma in Cognitive Behavioural Therapy and a post-graduate certificate in Coaching Psychology, all in UK Universities.
She has worked in Higher Education institutions for more than 10 years and has gained extensive knowledge and experience in student mental health. She has also worked for a West London Mental Health NHS Trust (in the healthcare unit of Feltham young offender institution) and a London based GP Surgery.
Fay offers one-to-one psychotherapy and has a broad range of experience treating emotional and psychological issues including anxiety disorders (such as agoraphobia, panic disorder social anxiety disorder, GAD, somatic symptom disorder and phobias), depression, obsessive-compulsive disorders, , self-esteem issues, work-related stress and so on.
She is an actively involved member of BABCP (British Association for Behavioural and Cognitive Psychotherapies) and AREBT (Association for Rational Emotive Behaviour Therapy) and is bound by their code of ethics. She is the Honorary Secretary and a Committee member of AREBT, the Branch Liaison officer for BABCP's REBT Special Interest group and a Fellow of Higher Education.
Languages: English, Greek