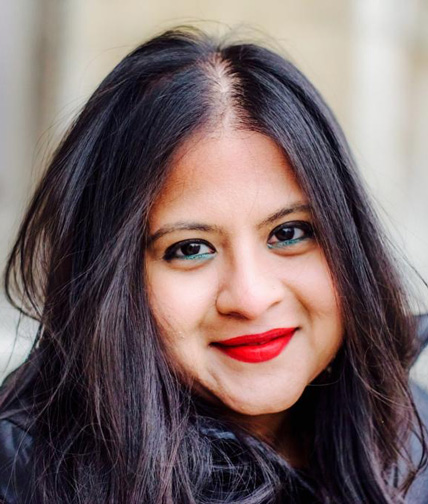 Dr Spondita Goswami
BSc, (Hons) Psychology, MS (Clinical Psychology) , PhD
Child and Adolescent Clinical Psychologist

Dr. Spondita Goswami is a registered Clinical Psychologist with the Health and Care Professions Council and specialises in child and adolescent mental health. She is also a chartered member of the British Psychological Society and American Psychological Association.
Graduating top of her class in Clinical Psychology, Dr Goswami worked tirelessly from an early age towards improving mental health services in rural India. The hands-on experience she gained early on in her career provided the groundwork for her PhD thesis "Psycho-Social Perspective on Communication Disorder with Autistic Children".
Dr Goswami has over 15 years experience working in the UK and overseas, across areas in community, residential and hospital settings. She has worked extensively with adults, children and adolescents to assess and understand the difficulties they are facing, with the focus on why and how these difficulties develop before creating bespoke treatment and care plans tailored to help them move forward. She has specialised training in assessment and psychological formulations, and has additional training in Cognitive Behaviour Therapy, Acceptance and Commitment Therapy, Mindfulness Based Therapy, Narrative Therapy, Systemic Therapy and Compassionate Focused Therapy.
Her clinical experience includes placements across a range of care settings, including community, primary and secondary care, outpatient and inpatient settings. She has worked in several settings in India, UK and Australia – treating patients presenting with a wide range of conditions, including depression, OCD, social phobia, separation anxiety, generalised anxiety, emotion dysregulation and self-harm. As part of her clinical work she has implemented evidence-based psychological interventions – both short-term and long-term – organised formulation focused sessions and client centered care plans. She has worked extensively with young people and their families, delivering group-based interventions like DBT-informed skills, CBT and family groups. She is highly experienced in administering specialist assessments for children and adolescents presenting with social communication difficulties, inattention and hyper-activity.
Dr Goswami has contributed to several research papers and seminars focusing on psychological well-being of young people. She currently works in the NHS as a highly specialist Clinical Psychologist within the St. George's NHS Trust. She works with CAMHS Access and specialist assessment team (Neuro Development Team).
Languages: English, Urdu, Hindi, Assamese, Bengali.