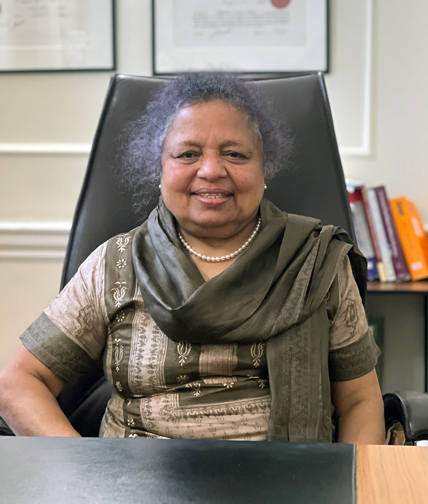 Dr Radha A. Bhat
MBBS, D.P.M., M.D., FRCPsych, MAcadMEd, MA, M Inst Group Analysis
Consultant Child and Adolescent Psychiatrist, Hon. Senior Clinical Lecturer
Dr Bhat is a Consultant Psychiatrist registered with the General Medical Council on a Specialist Register for child and adolescent psychiatry. Dr Bhat completed her medical graduation and postgraduation in Psychiatry from Mumbai University followed by Higher Specialist Training in Child and Adolescent Psychiatry from the Royal College of Psychiatrists, London. She further qualified as a Group Analyst from the Institute of Group Analysis, London and she is a Fellow of the Royal College of Psychiatrists. Dr Bhat is part of the CAMHS (Child and Adolescent Mental Health Service) team at The London Psychiatry Centre.
Dr Bhat has extensive experience in dealing with children and adolescents with complex and serious psychiatric problems, including eating disorders, psychosis, depression, ADHD, and comorbid conditions. Dr Bhat uses a psychodynamic (individual and group) approach and customises patient care, with continuous input from family and educators in children, when considering any necessary psychopharmacological treatments.
With over 30 years' experience as a consultant in the NHS, Dr Bhat has worked in areas with significant social deprivation, making excellent links with special schools, looked-after and adopted children's teams, and substance misuse and youth offending services.
Currently, Dr Bhat is a locum Consultant Child and Adolescent Psychiatrist at Merton CAMHS, South West London & St. George's Mental Health NHS Trust where she manages patients with Neurodevelopmental Disorders. In this role, she works closely with the multi-disciplinary team, supporting young people with complex mental health needs and neurodevelopmental disorders.
Bilocation of training in India and the UK has enabled Dr Bhat to develop a profound understanding of cultural diversity in the presentation of mental health difficulties in young people. Being proficient in multiple languages has been an asset in her practice. She has treated many young people with ADHD using external Trigeminal Nerve Stimulation (eTNS) treatment. Dr Bhat is the first psychiatrist in the UK to have treated children and adolescents presenting with recurrent depression and anxiety using repetitive Transcranial Magnetic Stimulation (rTMS).
Dr Bhat has a special interest in medical education; she has taught, assessed and been an examiner at a number of esteemed educational institutions, including the Royal College of Psychiatrists, Brighton and Sussex Medical School and The Institute of Group Analysis. She has participated in a variety of research projects, with specific interests in ADHD in children, adolescents and adults. She is currently researching Medical Apprenticeship as part of her higher training in Medical Humanities at Birkbeck College, University of London.
Languages: Hindi/Urdu Marathi, Gujarati, Kannada, and Konkani.