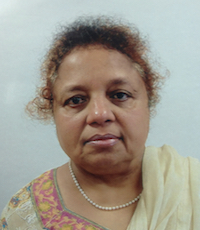 Dr Radha A. Bhat
MBBS, D.P.M., M.D., FRCPsych, MAcadMEd, MA, M Inst Group Analysis
Consultant Child and Adolescent Psychiatrist, Hon. Senior Clinical Lecturer
Dr Bhat is a Consultant Psychiatrist registered with the General Medical Council on a Specialist Register for child and adolescent psychiatry. She is part of the CAMHS (Child and Adolescent Mental Health Service) team at The London Psychiatry Centre. She has extensive experience in dealing with children and adolescents with complex and serious psychiatric problems, including eating disorders, psychosis, depression and ADHD. Dr Bhat uses a psychodynamic (individual and group) approach and psychopharmacological treatments, as appropriate.
With over 30 years' experience as a consultant, Dr Bhat has worked in areas with significant social deprivation, making excellent links with special schools, looked after and adopted children's teams, and substance misuse and youth offending services.
Currently, Dr Bhat is a locum Consultant Child and Adolescent Psychiatrist at South West London & St. George's Mental Health NHS Trust on the Neurodevelopmental Disorders Assessment Team In this role, she works closely with the multi-disciplinary teams working with a number of young people with complex mental health needs and neurodevelopmental disorders.
Dr Bhat has a history in teaching and examining students at a number of esteemed educational institutions, including the Royal College of Psychiatrists, University of London and Brighton and Sussex Medical School. She has participated in a number of research projects, with research interests in ADHD in children, adolescents and adults. She is currently carrying out research in Medical Humanities at Birkbeck College, University of London.
Languages: Hindi/Urdu Marathi, Gujarati, Kannada, and Konkani.