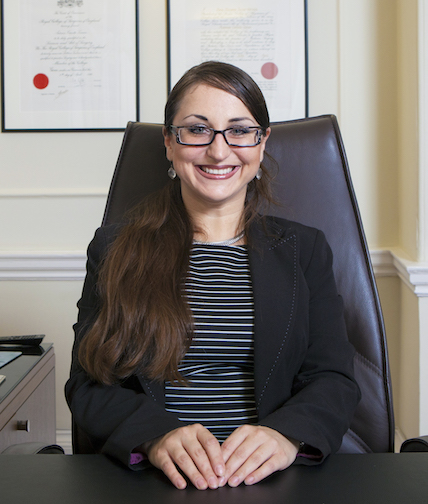 Dr Irina Panihhidina
MD, Assoc MRCPsych, CCST
Consultant Psychiatrist
Dr Irina Panihhidina qualified as a Medical Doctor with First Class Honours and underwent post-graduate training in General Psychiatry in Estonia. She has broadened her professional education at various international organisations, including the Open Medical Institute in Austria, and has presented at the World Psychiatric Association in both St Petersburg, and Hiroshima, Japan.
Granted the Certificate of Completion of Specialist Training, Dr Panihhidina moved to London and continued working for NHS as a Specialty Doctor in Adult Psychiatry. Her work has led her to developing a special interest in the treatment of mood disorders, including complex depression and bipolar disorder, anxiety and maladjustment crises, personality dysfunction and chronic pain related difficulties as well as psychotic disorders. She has participated in research and published work on anxiety related topics, and also conducts teaching sessions on suicide and self-harm prevention for medical students at University College London.
Dr Panihhidina has been awarded associate membership of the Royal College of Psychiatrists and actively participates in the Clinical Leadership Programme in the NHS, providing training for general practitioners on psychopharmacology related topics. She appreciates the importance of both pharmacological and psychological approaches in treatment of psychiatrics conditions. Her capability of tailoring treatment specifically to individuals helps to achieve impressive results.
Languages: English, Russian and Estonian
---
Доктор Ирина Панихидина
MD, Assoc MRCPsych, CCST
По окончании с красным дипломом медицинского факультета Тартуского Университета в Эстонии, ЕС, доктор Ирина Панихидина обучалась общей психиатрии у себя на родине и частично в Великобритании, а также расширила свое профессиональное образование в различных международных организациях, включая Открытый Медицинский Институт в Австрии. После получения Свидетельства о завершении обучения специалистом (CCST) доктор Панихидина переехалa в Лондон и продолжила работать на Государственную Службу Здравоохранения в качестве психиатра специалиста в группе разрешения кризисных состояний  (Crisis Resolution Team).
Доктор Ирина Панихидина получила совместное членство в Королевской Коллегии Психиатров и продолжает активно участвовать в Клинической Программе Лидерства при Государственной Службе Здравоохранения в Великобритании. Доктор Панихидина  проводит образовательные мероприятия для семейных врачей в Ислингтоне по темам связанным с психофармакологией, а также участвует в преподавательской деятельности для студентов-медиков в Университетском Колледже Лондона (UCL) по темам суицида и самоповреждаюшего поведения. Доктор Панихидина представляла доклады на симпозиумах международных конференций в Санкт-Петербурге, РФ,  и Хиросиме, Япония.
Работа в энергичной группе разрешения кризисных состояний в Лондоне значительно повлияла на развитие профессионального интереса доктора Панихидиной к области лечения психозных состояний и нарушений настроения, включая комплексную депрессию и биполярное расстройство, а также тревожных состояний, дисфункции личности и психологических осложнений хронической боли.
Доктор Панихидина ценит важность как фармакологических, так и психологических методов в лечении любых эмоциональных расстройств, часто  в сочетании друг с другом. Индивидуальный и внимательный подход к комплексным нуждам в каждом отдельном случае посредством применения знаний и навыков в области фармакологии, а также использование различных психотерапевтических принципов на ряду со знаниями в области общей медицины позволяют ей планировать персональное лечение и достигать своевременных результатов на пути к выздоровлению её пациентов.
Доктор Ирина Панихидина свободно владеет русским языком в качестве второго родного и оказывает психиатрические консультации на английском, русском и эстонском языках.