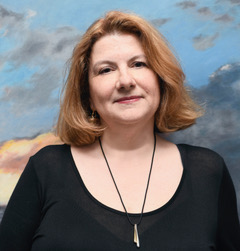 Dr Katingo Giannoulis
Clinical Psychologist
Dr Giannoulis has has a BA (Hons) in Psychology, MSc in Clinical Psychology from the University of Surrey and a PhD in Psychology from the University of London. She started working in the NHS and in private practice in 1990. Since 2008, has worked solely in private practice both in Athens, Greece and London, making use of telecommunications services.
Between 1996 and 2001 Dr Giannoulis was the Psychology Section Head of the Social Communications and Neurodevelopmental Disorders Clinic at Guy's Hospital, London. She then spent time as a Consultant Clinical Psychologist at the Michael Rutter Centre for Children & Families, Maudsley Hospital, between 2001 and 2008 where she specialised in Autism Spectrum Disorders (ASD).
Dr Giannoulis provides psychological services to adults, adolescents and children, as well as couples and families who present a wide array of mental health difficulties. She has extensive experience working with children and adolescents with neurodevelopmental disorders and their families and offers consultation services to schools. Within her therapeutic work, she primarily adopts an eclectic model with a strong cognitive-behavioural basis.
She is a Chartered Clinical Psychologist and an Affiliate Fellow of the British Psychological Society, with membership of the Clinical and Neuropsychological Divisions. Dr Giannoulis is also registered with the Health & Care Professions Council (HCPC UK). She is a Faculty Member of the American College of Greece (Deree College) in Athens where she teaches both in the Undergraduate and Graduate Departments of Psychology.
Languages: English and Greek