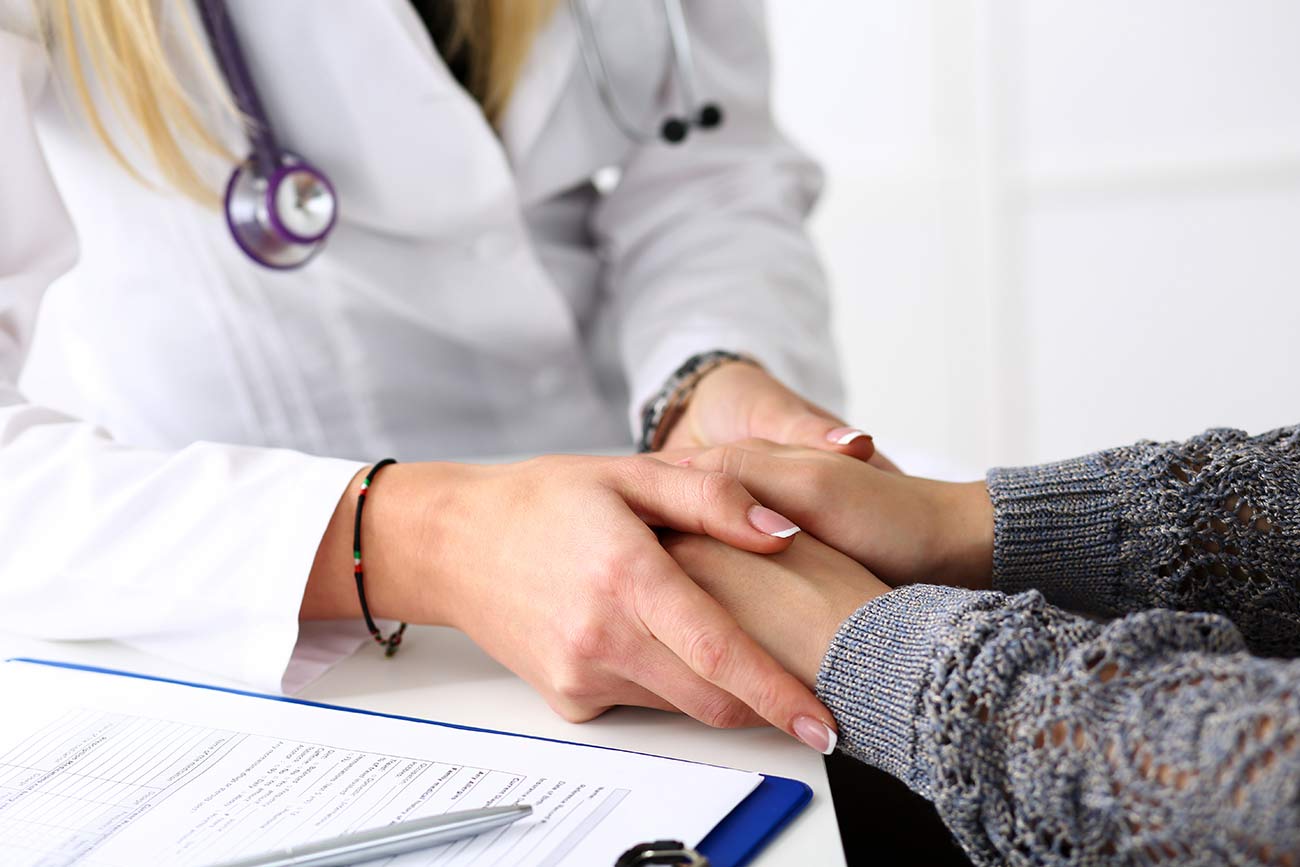 rTMS For depression: Busting The Myths
January, 2023
If you or a loved one suffers with depression and you are hunting for answers, you may have heard of repetitive Transcranial Magnetic Stimulation (rTMS). Many people compare rTMS to Electroconvulsive Therapy (ECT), but in reality, these two treatments are very different.
What Is rTMS?
Repetitive Transcranial Magnetic Stimulation is a highly-effective, evidence-based intervention for treatment-resistant depression. It is completely non-invasive, working without pain or pills. You can read more about what rTMS is here.
How Does rTMS Work?
Working with your body's natural processes, rTMS lightly stimulates parts of the brain that under-function in people with depression.
Your brain is essentially an electrical organ, operating through the communication of electrical signals between nerve cells. rTMS gently elevates the frequency and number of the signals that govern mood through the use of a pulsed magnetic field. This magnetic field is produced by passing rapid current pulses through a plastic-encased wire coil, which is positioned close to your scalp.
The treatment is thoroughly research-supported and NICE-approved, but because it is relatively new, myths are bound to arise. Here is the reality:
Myth:
rTMS is like ECT.
Reality:
Because ECT (electroconvulsive therapy) and rTMS both use electrical brain stimulation, they are often assumed to be similar. But in many ways, the two treatments are worlds apart. ECT is a significantly more invasive treatment, often reserved for people with psychotic depression, or those who are catatonic or suicidal. rTMS is a distinct, and significantly milder treatment. To compare: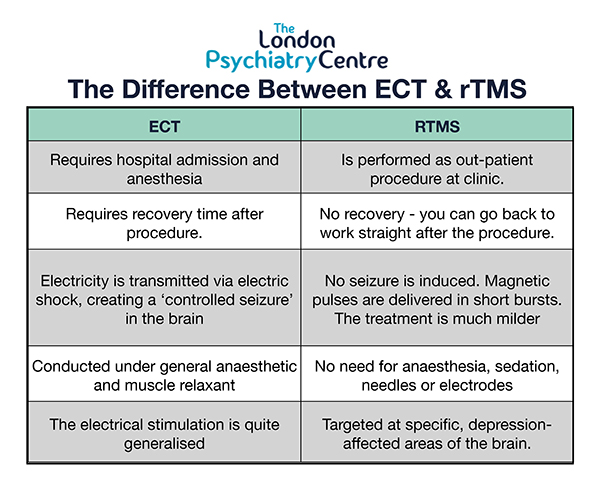 Myth:
rTMS is experimental.
Reality:
rTMS is well beyond the stage of being an 'experimental' treatment for depression. It has been approved by the National Institute of Health and Care Excellence (NICE) and is available in some NHS areas around the country. Indeed, in the inspection report, NICE affirmed that:
"Feedback from patients was very positive about the service, with some patients describing life changing treatments, following years of unsuccessful treatments elsewhere."
rTMS is assessed to be a significantly safe treatment, with very scant risk of side effects. This assessment is based on a body of evidence that includes many thousands of patients, numerous clinical trials, research studies, and peer-reviewed papers.
Indeed The London Psychiatry Centre was a national advisor to NICE through its rTMS review process. What's more, The Care Quality Commission (CQC) names The London Psychiatry Centre as a UK pioneer of the treatment.
Myth:
rTMS is overpriced.
Reality:
It is true that rTMS isn't a 'cheap' depression treatment – indeed because the equipment employed is state of the art and the expertise involved is considerable, and the time intensive nature of the procedure, it cannot be.
Of 44 centres in the US and Australia that have published rTMS treatment results for treatment-resistant depression, the remission rate is 29%. There are no published treatment outcomes available in the UK other than those from TLPC. At TLPC, remission rate for treatment-resistant depression with rTMS is over 60%, with 74.2% of women and 58% of men recovering in an average of 4.3 weeks. Treatment sessions last for around 30 minutes, 5 times a week, usually for around 4 weeks. The cost of the initial assessment with the psychiatrist and rTMS can be found on our fees page. You will also require a review appointment with the rTMS consultant each week to re-prescribe your treatment and review your progress, cost of which can be found on the fees page. Frequently, patients that have not responded to talking therapies and medication have been handed their lives back through rTMS and find the cost pales in comparison.
To find out if rTMS might be right for you, call The London Psychiatry Centre on 020 7580 4224.