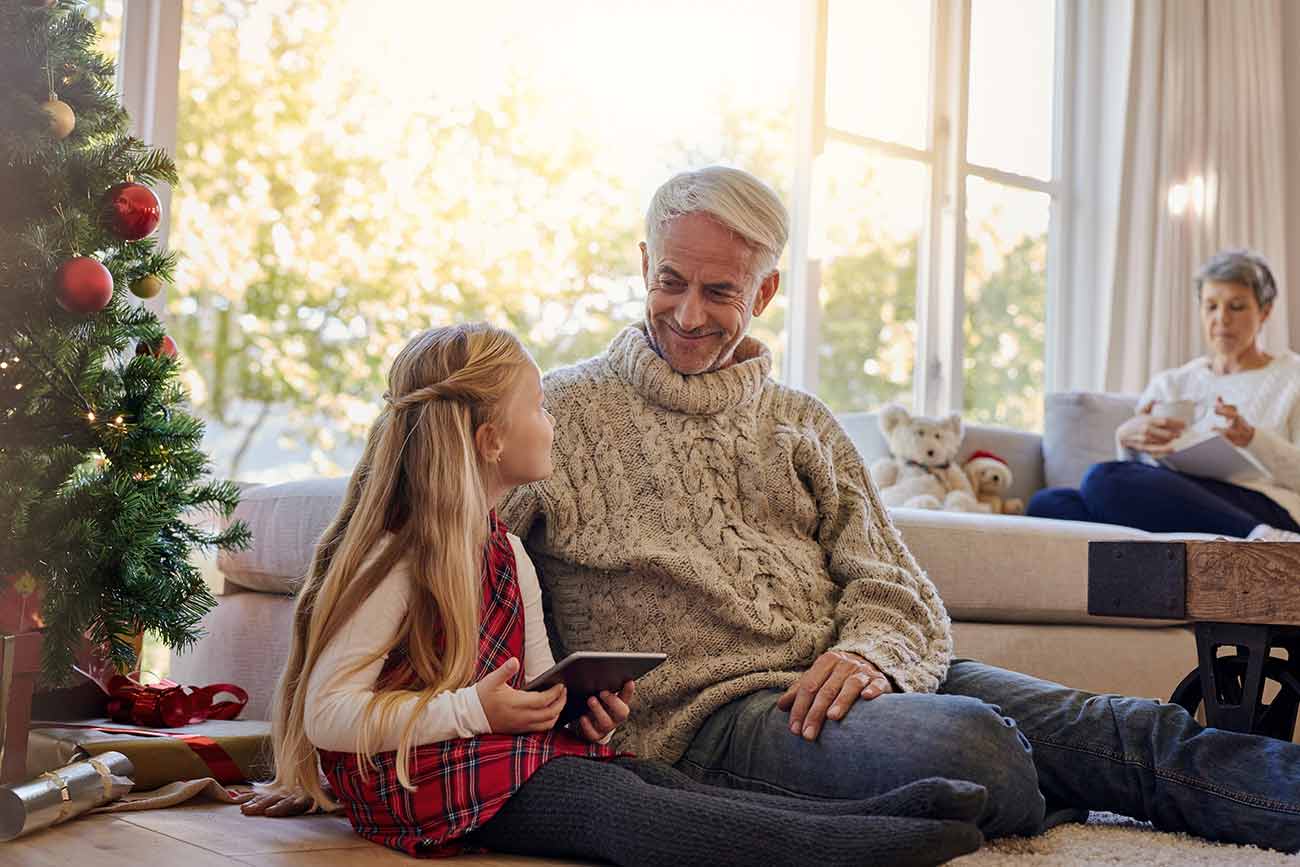 How To Support A Loved One With Dementia Over Christmas
January, 2023
It's the most wonderful time of the year, but for dementia sufferers and their families, Christmas can bring all sorts of added stresses. For example:
Lots more visual and audio stimulation around; lights, loud music and so on
Extra people coming and going, the doorbell ringing and unfamiliar faces appearing
Other family members or friends that might usually be around, being less available over Christmas, due to lots of festive work and social commitments
Feeling 'left out' of the festivities because others are preoccupied and perhaps don't understand that people with dementia can join in. In fact, research by the Alzheimer's Society found that: '71% of people affected by dementia think a lack of understanding has caused people with dementia to be left out at Christmas.'
You want Yuletide to be as pleasant and relaxed as possible – for your loved one, for you, and everyone else. So what can you do? Here are some strategies that can help:
Go Gently:
Ease Christmas into your environment bit by bit. If all the decorations go up at once, your home may feel incredibly disorientating to your loved one, so decorate little by little over a few days.
Get Your Loved One Involved:
Each person living with dementia is different and at varying stages obviously, so you can pitch it according to their needs, but making sure they are able to participate in the Christmas spirit will make a difference. It could be helping to decorate the tree, or even doing a bit of Christmas shopping – the key is to include them.
Do Some Gentle Memory Mining:
Do you have a classic Christmas movie you've watched together in the past? What about old festive songs from their heyday? Perhaps you could go through the family albums together or create a memory box.
Keep Things Light:
For someone living with dementia, loud noise, strange faces, and lots of people coming in and out can be very overwhelming. It helps if you can keep visitors to groups of a few at a time at most. Also plan rest breaks throughout the day, or put aside a quiet room in the house that they can go and relax in if things become overwhelming.
Christmas Shopping:
If you are going Christmas shopping with a loved one living with dementia, try to plan ahead and shop in the morning when the stores are quieter and you can go at a gentle pace. Ask for help if you need it. Several major chains are now encouraging staff to become Dementia Friends (for example M&S, Argos, and Homebase). Look out for the Dementia Friends badge.
Attend A Christmas Music Event:
Christmas music evenings and carol singing events are a great way to get everyone involved and can often bring back positive memories for someone living with dementia.
Be Accommodating:
If you are hosting a Christmas event and someone with dementia will be attending, label facilities and set aside a peaceful room. If your loved one knows where to go, it can help them feel much more relaxed.
Reach Out for Support:
Caring for a loved one with dementia can be incredibly taxing, so try to make sure there is someone on the end of the phone for you when you need comfort. Let your closest friends know you might need a bit of extra support at this time.
If you or a loved one is living with dementia, The London Psychiatry Centre can help. We are home to the UK's leading Memory Clinic, led by esteemed Consultant Old Age Psychiatrist Dr Rafael Euba. We are also highly experienced in supporting the family, friends and carers of people living with dementia.
To find out more call The London Psychiatry Centre on 020 7580 4224.